At Jetsdigital we follow the work from home operating model. We were fortunate enough to have planned our business model around the work from home setup right from inception. It made sense considering we envisioned our business to be nimble, flexible and scalable. We wanted to hire professionals that liked the freedom of being location agnostic.
We right source our work to professionals that can be located at any part of the globe. We did this primarily as it helps reduce fixed costs, we can bring in fresh ideas and perspectives from around the world and more over we can pass on this cost savings to our valued customers.
During the pandemic the tools that we setup helped us operate without any interruption. The tools we use are easily available. They are primarily Saas (Software as a Service) tools and apps. Billing in most cases is on a per user basis. And costs only add up when the number of users increase.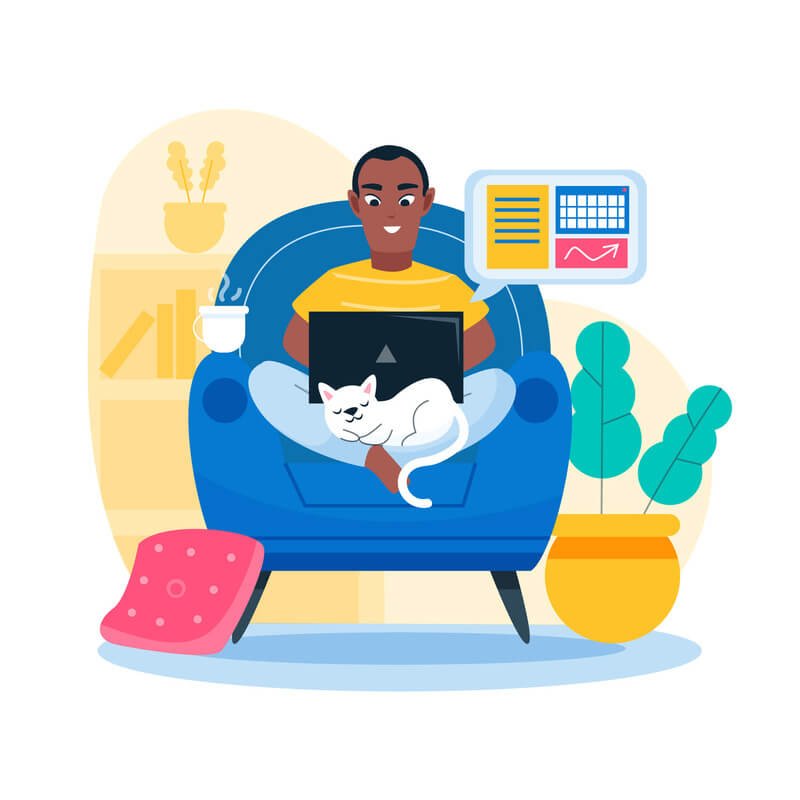 Here are a list of tools and applications we use in our day to day operations.
Microsoft 356
We use a MS 365 plan that starts at $6.50/user/month. For that price we get access to Microsoft Office apps like Word, PowerPoint, Excel and Access. We also get 1 TB OneDrive storage include per user. We access our emails on Outlook and use Teams for chat, collaboration and our daily standups. With Teams we can host video chats with virtual backgrounds, a great plus for those who are conscious of their surroundings and don't like people peeking into their background or at home work environment.
HR Partner
This application is a SaaS platform that helps us manage our team, here's where we can place a leave request, onboard staff, book vacation times and also manage documentation. There are tons of features on this platform it's a real timesaver.
DocSketch
We use Docsketch for e-signatures. All our contracts are executed via this SaaS application. It's simple to use, fast and effective. It's reasonably priced therefore we recommend it over the others.
Adobe Creative Cloud
We use Adobe Creative Cloud for all our core design related work. Lightroom and Photoshop are used extensively by our team for day-to-day tasks. Because it's a cloud-based software we pay for the licenses and our staff access them online.
SocialBee
We use Socialbee for social media account management. With this application our clients can provide us with access to publish posts on to their social media accounts. We don't really need the login credentials of our clients. This software acts as a buffer with a workflow, where we as the agency post content, the client approves the post, the post then gets published after client approval. Posts can be scheduled in advance as it has a built in content calendar and post scheduled.
Trello
We use the free version of Trello to manage team tasks and track progress. Issues, impediments, ideas and stories are captured on the board for all to see. It has a great mobile app and we have found it extremely useful in the current environment to replace a physical Kanban chart.
Project.co
This is a Client facing software that we use for project management. The client is provided a login and we can view project status and updates. There are different views available and there's also a mobile app. One can also generate an invoice against milestone completed on this application.
Canva
This is a very handy online application that's great for creating content and posts at breakneck speed. Using readymade templates and ideas we use Canva where ever suitable based on the content we're supposed to deliver to our clients.
WordPress CMS
All our online business assets are based on the WordPress CMS. The Jetsdigital website is built on WordPress. We use a variety of add-ons and plugins to continuously improve our online assets and add features that can be shared with our Web development clients.
In this article we have just scratched the surface, there are many tools out there that can make your life easy. The list can go on and on. We will continue to share tips and software reviews on our blog posts.  If you are looking for assistance with a business problem and would like our opinion to automate and better manager a business task, Feel free to reach out to us at hello@jetsdigital.com